Number of IT staff in Vietnam
According to data from the Ministry of Information and Communications of Vietnam, the total number of employees involved in the IT field was about 780,000 in 2016, of which about 300,000 are working in the hardware industry. Be involved in software industry and digital content industry. Among them, the number of IT engineers like engineers in Vietnam is about 300,000.
Currently, the Vietnamese government is actively supporting the development of IT personnel. The Ministry of Science and Technology of Vietnam, the Ministry of Education and Training, and the Vietnam Information Technology Industry Association (VINASA) are making efforts to enhance the competitiveness of IT in public-private partnerships. Plans are in place to duplicate. For this reason, we aim to promote human resources in mathematics and physics at universities instead of IT as IT engineers and increase them in a short span of time. Specifically, it is a program in which college graduates re-enroll in college specialized IT and junior college and support for the next job.
Behind this development plan is the growing demand for IT staff as the IT industry grows rapidly. According to the announcement of Vietnamworks, Vietnam's largest recruitment website, the demand for IT personnel in Vietnam has nearly doubled from 2013-2016. The IT industry in Vietnam is expected to grow significantly in the future and the demand for IT personnel will also increase.
Educational system related to IT
Math and IT are the most chosen majors among Vietnamese students. There are 290 universities across the country that specialize in IT. We recruit 55,000 students each year. Currently, the famous universities in IT education include engineering universities, information technology universities, Japanese Institute of Post and Communications Arts, FPT University and Le Quy Don University. FPT is the largest IT company in Vietnam, but the university founded by the company is also responsible for IT education. In general, if you are a science university, there are many faculties that can specialize in IT. In addition, there is a move to establish a new IT department to develop IT personnel. For example, Ho Chi Minh City University of Pedagogy will set up the first robotics and AI department in Japan in 2019 and will start recruiting students. Ministry can learn robot and artificial intelligence (AI) and free tuition.
Based on such an education system, IT human resources in Vietnam have increased to international competitiveness. According to HackerRank, known as a website that deals with programming issues in various fields such as algorithms, machine learning and artificial intelligence, Vietnamese engineers ranked second among countries in the world. Southeast Asia, according to HackerRank. It ranked 23 out of 50 in the rankings.
Evaluate and rank IT technicians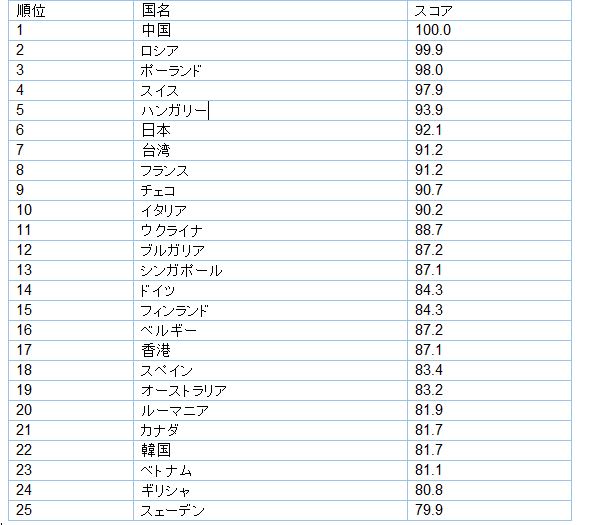 Characteristics of Vietnam's IT human resources
In short, the value of IT staff in Vietnam is that many young people receive basic education and technical knowledge, and they quickly acquire new technologies. On the other hand, the lack of language ability is one of the drawbacks. The characteristics of newly graduated and mid-career are as follows.
Because higher education in Vietnam is primarily focused on the education of JavaScript, PHP and C languages, recent graduates often have experience learning these languages. Also, databases like SQL and My SQL servers are often learned. Recently, development languages ​​like Python and Ruby, commonly used in AI development, have become popular. Also, as a graduate student, I don't have much experience in major project management, but as part of my graduate production, I mainly do human resource management and research applications. SEO and EC site building.
Next, with regards to mid-career personnel, there will also be many people with project management experience at Japanese companies. In addition to making SE bridges, there are many people with high management and development skills. On the other hand, there is a strong tendency to change jobs for 2 to 3 years in search of higher wages and this change is more positive in Japan. However, after four years or more, the retirement rate will decrease significantly and we will appreciate our relationship with the company. Speaking of languages, Japanese conversation skills tend to change widely and in general, the higher your Japanese language skills, the higher your salary.
In Vietnam, there are generally more job changes than in Japan, and many people change jobs every few years. This is no exception in the market changing IT jobs. The way to change jobs is slightly different from Japan and deciding to change jobs by introducing friends or acquaintances is still common. However, talented people often change jobs using HR companies and HR agencies. In particular, experienced second-graders who are members of society have become inter-company relationships and companies that need a sense of speed.
Relationship with the shortage of IT human resources in Japan
As mentioned above, with the support of the Vietnamese government, it is expected that Vietnam's IT human resources will increase both in quality and quantity. On the other hand, in Japan, the shortage of IT personnel is becoming more serious and there are many concerns that it cannot support the expansion of IT markets such as IoT, AI and Big Data. According to the Ministry of Economy, Trade and Industry in 2016, the demand for IT human resources is expected to increase, while the number of human resources in Japan will decrease. The number of IT personnel is expected to be 368,000 in Japan by 2020 and the number of deficiencies will continue to increase, with 571,000 in 2025 and 789,000 in 2030.
Considering the future development of IT human resources in Vietnam, it is expected that where Vietnam's IT human resources can play an active role in Japan will expand in the next few years.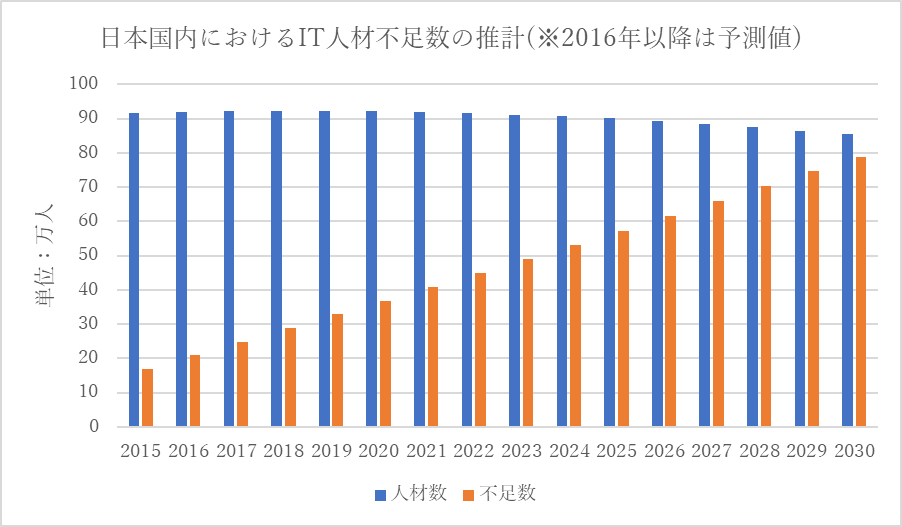 Source: Ministry of Economy, Trade and Industry