Vietnam economic overview
Vietnam has been widely known as an emerging country in Southeast Asia, where the domestic economy has grown rapidly and economic growth has continued to be stable in recent years. The Vietnamese government has increased its presence as a major player in the global economy through participation in the international economic framework and the signing of a free trade agreement. In 2007, Vietnam became an official member of the World Trade Organization (WTO) and an official member of the ASEAN Economic Community launched in 2015, playing a role in regional integration in the region. In addition, the Vietnam – EU Free Trade Agreement (EVFTA), negotiated in 2015, is expected to take effect after 2019, and is promoting integration with the global market economy through through the international economic framework.
In addition to these movements, Vietnam also has conditions such as a stable political system and a young and abundant workforce, and the Vietnamese market is expected to grow steadily in the future.
High economic growth rate
Vietnam achieved an average annual economic growth of 7.3% (real GDP) from 2005 to 2009. Although the growth rate in 2009 has decreased to 5.3% to cope with the global financial crisis in 2008, but it recovered to 6.8% in the following year. Vietnam has maintained a high economic growth rate of 6.8% in 2017, despite the global economic downturn as the slowdown of the Chinese economy. This number is the highest growth rate in the last decade.
Some factors such as strong domestic consumption, increased foreign direct investment, strong export of Vietnamese products, shifting integration into the international economy and deregulation of government regulations support the pace. High growth of Vietnam's economy. Have interest.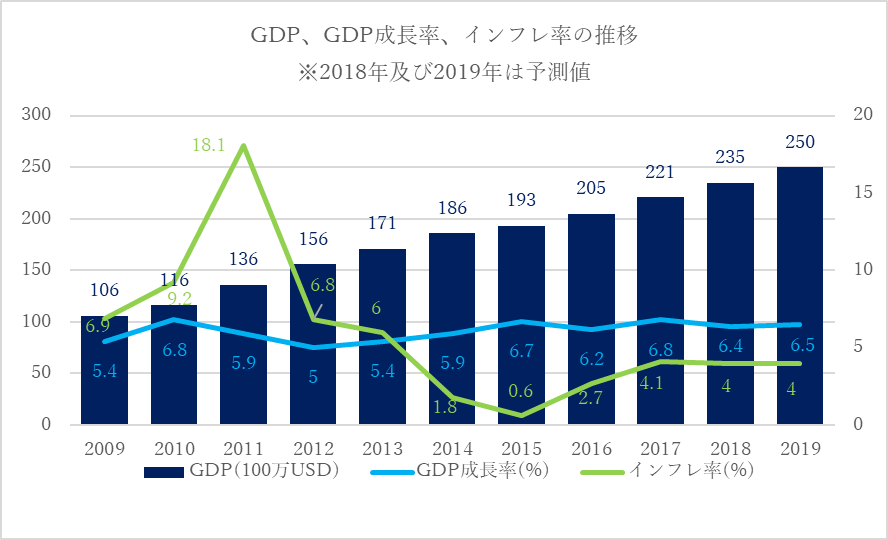 Source : Economist Intelligence Unit; World Bank (2017)
Stable inflation rate
In 2011, Vietnam faced high inflation, up to 18.1%. To limit the overheating of the economy, the Vietnamese government has tightened monetary policy such as raising interest rates and taking measures to control inflation. As a result, inflation continued to fall to 6.8% in 2012 and 6% in 2013. After that, it dropped to 0.6% in 2015 and 2.7% in 2016, partly due to oil prices. global reduction.
Meanwhile, inflation rate increased to 4.1% in 2017 due to the booming domestic economy and increased investment. However, the average annual inflation rate from 2016 to 2020 is expected to be around 4% and this number is forecast to be lower than the average rate of 7% from 2011 to 2015. Although gradually, the inflation rate Vietnam's transmitter is stable.
Private companies increase their presence
In Vietnam, where the Communist Party's one-party system continues, this is a powerful government-owned state enterprise that has been present in Vietnam's economy for many years. However, the promulgation of the Enterprise Law and the 2005 Investment Law was a big turning point. The number of entrepreneurs has increased, and the proportion of private enterprises has increased compared to state-owned enterprises. Currently, private companies account for about 40% of Vietnam's GDP. In a world market where free trade is growing, international competition is intensifying and companies need to manage it more effectively. The change of economic entities, such as the expansion of the presence of private companies, will accelerate in Vietnam in the future.
The future prospects of Vietnam's economy
Therefore, it cannot be denied that Vietnam's economy has shown a high growth rate so far. However, there is also the fact that there are some problems for Vietnam's economy to develop stably.
One of them is to improve the quality of Vietnam's human resources. The foundation of Vietnam's economy is a young and abundant labor force that accounts for the majority of the country's population. In 2017, Vietnam's working age population reached 65 million, or 69.9% of the total population. However, with rapid economic development, with the advancement of industrialization, people with high expertise and high added value are required. In the future, ensuring high-level human resources will be a big problem for companies.