1. Natural rubber trend in Japan
About 80% of Japanese rubber is consumed by the rubber industry and about 80% is consumed in the tire sector.
Other applications outside the tire industry related to the rubber industry, auto parts and rubber hoses for industrial use, rubber bands, etc., and for consumption outside industries related to the rubber industry. including paper processing, synthetic production of plastics, fiber processing, wires, paint adhesives, pigments and the like can be mentioned accordingly.
Japan depends on 100% of natural rubber imports. The amount in 2017 was 699,000 tons.
Looking at imports by country, Indonesia accounted for 62.3% of the total in 2017, with the second being 32.4% in Thailand. Malaysia was an import destination after Thailand until 1991, but from 1992 onwards Indonesia had less imports than Vietnam. In addition, the number in Vietnam is only 1.7% of the total number in 2017.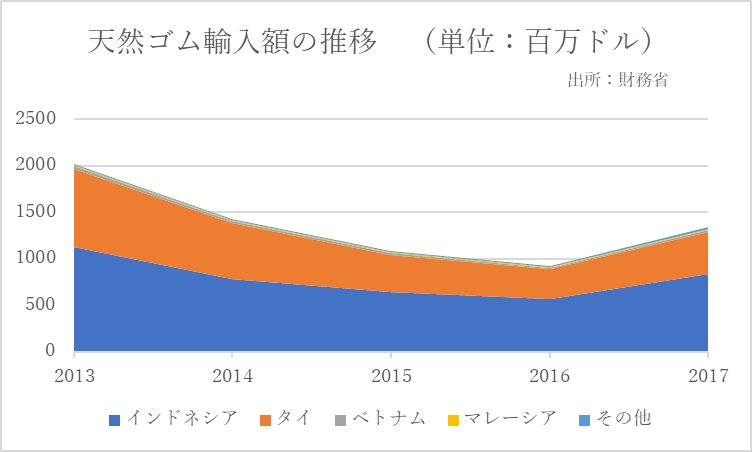 Buying and selling natural rubber
It is bought and sold in the following three forms according to the trading form
·Latex
A liquid rubber with the concentration is adjusted by adding ammonia to the rubber latex obtained from the rubber tree to prevent blood clotting. It is used to dip tire cords, as well as threaded rubber, rubber gloves and adhesives.
・ RSS (rubber visual ranking = VGR)
Latex is frozen into a sheet and is smoked (smoke, dried). It is also called rubber sheet.
・ TSR (technically classified rubber)
Also known as block rubber. Raw rubber is finely ground and pressed. Technical graded rubbers should be checked based on their post-molding analysis tests to determine rubber, ash, nitrogen content, volatile matter, wallace ductility, plasticity ratio. The grades vary depending on what is used for rough rubber. For intermediate products, USS and rubber are naturally coagulated at the collection stage, one step ahead of RSS, used as raw material, and high purity raw rubber and used products. 100% latex is an advanced product.
Natural rubber can be used properly because the mechanical strength properties may vary depending on whether the RSS or TSR. Automotive parts that use tires or rubber may require RSS intensity. In addition to tires, Japanese manufacturers often prefer RSS, but in recent years, TSR's price fluctuations are often cheaper due to price fluctuations and more and more manufacturers are improving to replace RSS.
Need to sell flexible because there is a part depending on the technical power of the user should request RSS or TSR or not.
Domestic market share of rubber
In the rubber industry, the leading "Bridgestone" is operating alone and the second largest "Sumitomo Rubber Industry" has grown more than four times. Bridgestone and Sumitomo rubber industries are developing new materials that do not use natural rubber.
Demand for natural rubber is not tires
In the industrial sector including the automotive industry, synthetic rubber is suitable because oil and heat resistance is often stressed, and natural rubber is rarely used. In addition, due to the presence of latex allergy, in recent years, latex-free rubber gloves and the like are in direct contact with the skin often used.
Natural rubber is excellent in cold and tear resistance. Because of this, it is suitable for car tires, and is used at high speeds especially for heavy vehicles such as large vehicles and aircraft. Again, in Japan, 92% of all natural rubber is used for tires and tubing.
Summary
Japan depends on imports for all natural rubber, and the most imports from Indonesia, and over 90% of imported natural rubber is used for car tires.
There are three types of traded natural rubber: liquid latex, RSS thin sheet and TSR block. Although RSS is sometimes preferred for automobile tires, there is little difference in usage between RSS and TSR, and there is a current situation where demand varies depending on the technology of the user.
Car tires are a key product of the rubber industry in general, but demand for natural rubber can also be found in tubes, shoes, condoms and other products.