BUSINESS STRATEGY CONSULTING
Vietnam – Japan market entry and business development:
We provide all the services to support Japanese firms to invest in Vietnam as well as support Vietnamese companies to expand their business to Japan. We supply the full and one-stop service to the customer from the beginning of the project until the successful accomplishment. The main scope of services includes market research, market entry strategy, joint venture development, business partnerships, business development,  business expansion, partner searching, business negotiation, and goes through the necessary procedures for the clients' investment in Japan/ Vietnam.  The one-stop service is the best choice for the project's success. However, ONE-VALUE also provide services separately to match to the clients' objectives
Working with ONE-VALUE, Clients can shorten the time for preparing and planning projects, improve performance on each project and build effective networks with local governments and partners. Besides, ONE-VALUE also has the extensive expertise which focuses on Renewable Energy, High-Technology Agriculture, Smart City, Human Resource & Education, Consumer Goods.
Vietnamese – Japanese market research:
A lack of resources, effective approach and execution often prevents clients conducting effective market research in the early stage of the investment consideration. Therefore, ONE-VALUE also provides the market research services in every single industry according to clients' business objectives.
The survey questions as well as the final output will be designed following the customer's business matter and reach the consensus before putting into practice. We also offer the fundamental market research including the growth rate, market scale,  competitors' analysis, industry trends, government policy, supply-demand analysis, supply chain, etc
M&A advisory service: Merger and Acquisition is an effective market entry strategy. In the context of the thriving economic relationship between Japan and Vietnam, many clients who are individuals or organizations want to expand their existing businesses or start new businesses through M&A activities and investment in Vietnam and vice versa from Vietnam to Japan.
Recently, many Japanese enterprises have considered purchasing Vietnamese enterprises because of the advantage of low cost and high growth rate in comparison with other ASEAN countries. ONE-VALUE also supports the customers in searching for the target businesses, selecting and negotiating to make a successful deal. In addition, ONE-VALUE has strategic partners who are experts in finance, accounting, law ect. to support the customer in term of technical activities such as Financial, Tax, Legal Audit Due dillegence.
Human resource solutions:  ONE-VALUE is also a recruitment agency which provides the Japanese companies' human resources solutions. We provide the excellent staffs who are best-fit to the clients' recruitment objectives and the job descriptions. ONE-VALUE focuses on the foreign employees (major in Vietnam and other ASEAN countries). In addition, we can ensure the human resource as well as provide the training programs for them to meet the requirements from Clients. We also accompany them to implement that program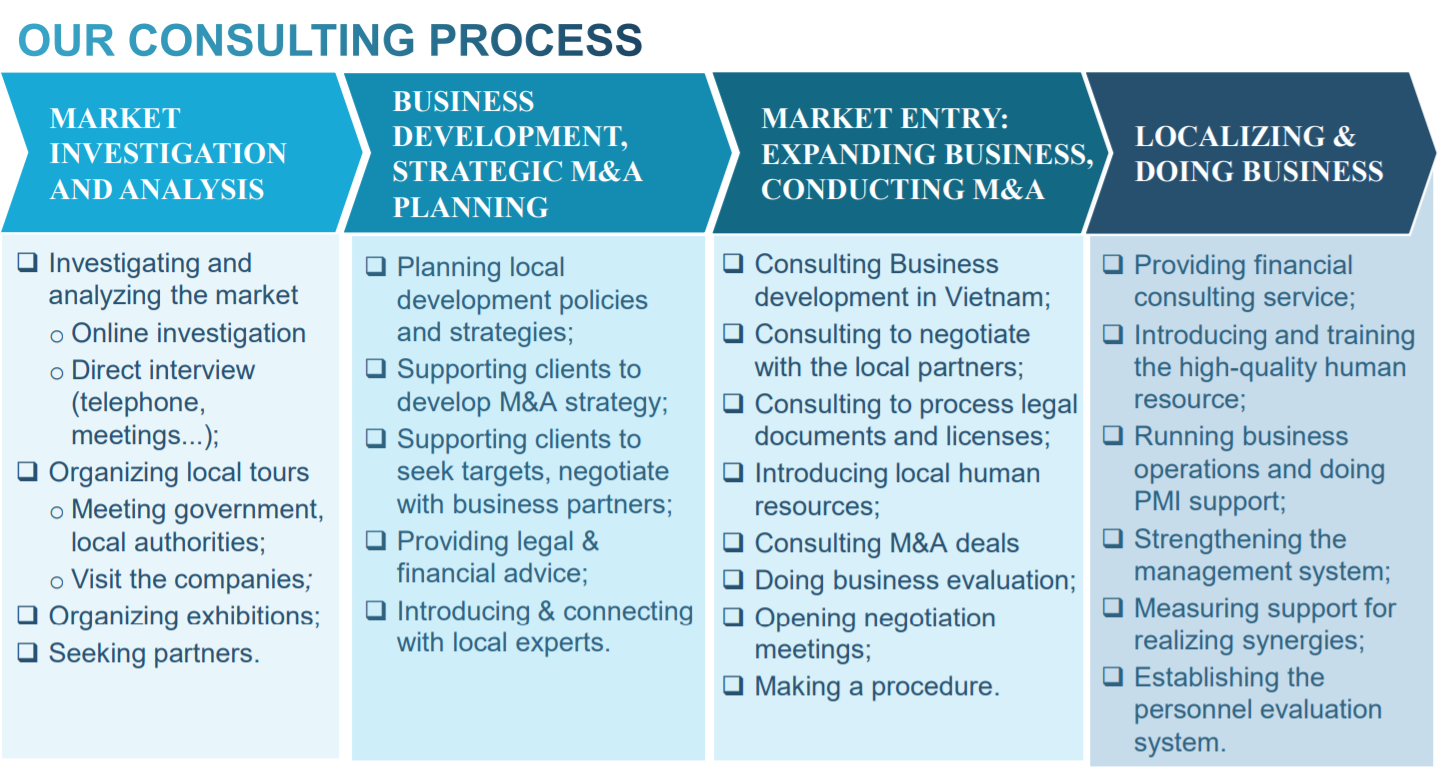 JOB PLACEMENT AND HUMAN RESOURCE TRAINING
Foreigner supporting service in Japan:
ONE-VALUE is a Foreign Employment Agency being licensed by the Japan Ministry of Justice. We provide employment support and life stabilization assistance in Japan to human resources who are the Skilled Foreigner employees
Our service is a full package from planning recruitment strategy, setting up recruitment program to introduce the potential employees as well as support human resource management.
The recruitment service: ONE-VALUE provides personnel introduction and rotation services, mainly focusing on introducing personnel for companies in Japan and Vietnam. ONE-VALUE exploit and develop a wide range of human resource in a variety of industries corresponding to the different type of residency status in Japan. For example: senior employees (full-time and contractual employment), part-time employees, Specific Skilled Workers and Trainees, etc. Furthermore, ONE-VALUE also provides a free job posting platform for businesses through a recruitment website called GAMBADEKI.JP. ( http : //gambadeki.jp/ ), which is is developed and managed exclusively by ONE-VALUE.
For corporate clients, ONE-VALUE not only introduces personnel, but also supports activities relating to recruiting foreign personnel such as interviews, VISA procedures, …), related activities. human resource training, (Japanese language training, certification exam, driver's license exam, etc.). ONE-VALUE has an extensive network of Vietnamese communities. Therefore, we can propose a wide range of human resources who are suitable to clients's objectives. In addition, we also provide HR solutions to support clients' businesses as well as maximize the value of foreign employees, especially Vietnamese.
For the job seekers, ONE-VALUE undertakes the career counselling in a careful and enthusiastic way to introduce the best-fit jobs for the candidatess. Giving a recommendation according to the candidates' ability and orientation can minimize the risk of inappropriate job application which can waste time and resource of both candidates and the recruiters. ONE-VALUE has a free call center to receive and share with the candidate's problem which help to reduce the case of quitting the job after joining the company.
The service of training and developing human resource: ONE-VALUE holds a belief that people are the most valuable asset of an enterprise. Therefore,  the more increasing value the enterprise's human gains, the stronger enterprise value grows. We can organize activities, career coaching programs to develop, improve candidates' analytical thinking and Japanese working skills.
The recruitment event service: we also provide the services on behalf of clients to perform the relating recruitment activities. Using our recruitment event services, recruitment marketing activities (such as social network's digital marketing), the clients can reduce the recruitment costs and operational resources at the same time. In addition, the human resource development will be implemented smoothly and effectively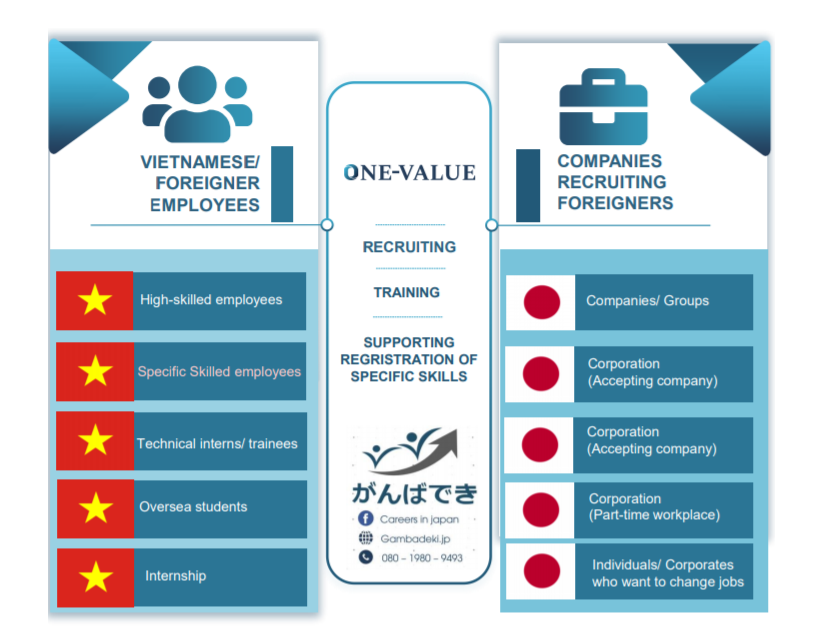 BUSINESS MATCHING
By optimizing the available network of ONE-VALUE with the central government authorities, local authorities, and industry associations in Vietnam as well as Japan, ONE-VALUE can provide the effective business matching service for both Japanese and Vietnamese companies.
This service is especially useful for the Japanese enterprises who are considering the investment and trading opportunities with Vietnam or desiring to update the local's Information in time or taking site visits to local companies in Vietnam.
We can arrange site visits and conduct business negotiations with government authorities and companies in Vietnam and Japan depending on Clients's requirements.

Arranging the site tours to visit the government authorities and enterprises in Vietnam and Japan
Looking for the local business partners in Japan/ Vietnam
Providing the information from the local of Vietnam or Japan (Marketing research, legal research, etc)
Supporting the start-up business in Vietnam or Japan
Being a contact point and implementing the procedure on behalf of clients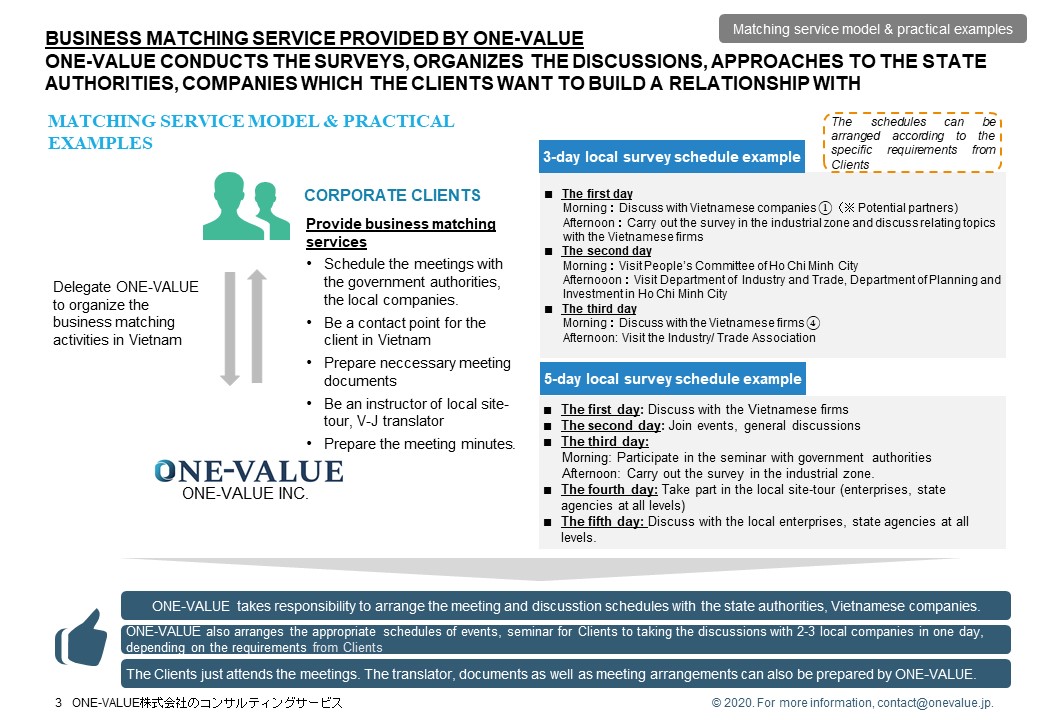 OTHER SERVICES
In addition to 3 services mentioned above, ONE-VALUE also provides the following services:
Export-Import business between Vietnam and Japan
The call center supporting the life and job for the foreigners who are living in Japan
Free career counselling service for the foreigners in Japan
Interpretation/ Tranlation among Japansese-Vietnamese – English