Service contents
ONE-VALUE conducts highly accurate Vietnamese company surveys (credit surveys and competitive surveys).
When you start a new transaction with a Vietnamese company or compare other companies in the same industry, you need accurate information on the target Vietnamese company. ONE-VALUE will utilize the experience and know-how that we have conducted in Vietnam, and the database and network that we have accumulated so far, to conduct a highly accurate survey of Vietnamese companies, prepare a report, and deliver it to our customers. ..
Specifically, it is possible to create a report that includes the following items. * The following is just an example. We will respond flexibly to the survey items according to your request.
Representative: Management experience, major career so far
History: Time-series corporate history
Performance: Confirm profitability from the performance for the last 5 years (sales, profit after tax, etc.)
Current status of funds: Securing necessary funds, bad debts
Financial statements and analysis: Evaluation of the soundness of corporate management
Real estate registration copy: Collateral setting status
Shareholders: Major Shareholder Information
Business partners: Payment / collection conditions, relationships with business partners
Banks: Relationships with main banks, ability to raise funds, etc.
Current status and outlook: Current status and future vision of the company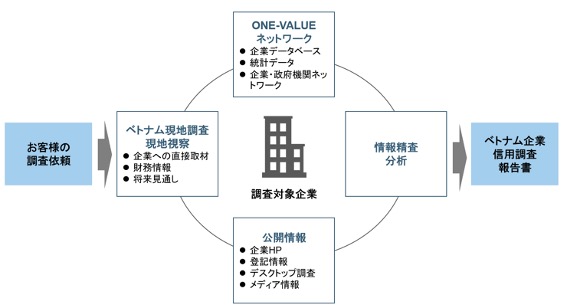 Service model / charge
Vietnam Corporate Survey Service is provided in the following steps. After receiving an inquiry from a customer, we will hear details such as the purpose of the customer's investigation at ONE-VALUE in order to make an accurate and high-quality report.
Prices vary depending on the number of companies surveyed, so please contact us once and we will provide you with a detailed quotation.
Features / strengths
As a management consulting specialized in Vietnam, ONE-VALUE has a deep understanding of the Vietnamese market and a network to the Vietnamese government and private companies. A Vietnamese investigator who can collect information in Vietnamese is operating locally. It is also possible to approach with ONE-VALUE at government agencies and private companies, which are usually difficult to approach.
Not only listed companies with a relatively large amount of public information, but also local companies with a small amount of public information can acquire and investigate detailed information by utilizing the ONE-VALUE network.