Service contents
We provide one-stop advisory services related to our customers' support for expanding into Vietnam. As a one-stop advisor, we will stay close to our customers over the long term and provide consistent services from the initial stage of business to establishment, implementation, and operation after expansion. Mainly to support all matters related to market research, partner search, business negotiation support with partners, business development strategy planning (JV / M & A strategy formulation), new business formulation, Vietnam entry / market entry. Is possible. We can also provide only a part of the support according to the needs of our customers.
By utilizing ONE-VALUE consulting services, it is possible to reduce the time required to consider business development, improve the probability of success of projects, and build networks with local companies and government agencies.
Please see xx for support services related to "market research" and "strategy planning".
"Business support related to Vietnam expansion" can provide one-stop support for Vietnam expansion, including "market research" and "strategy planning".
Search criteria for Vietnamese local partners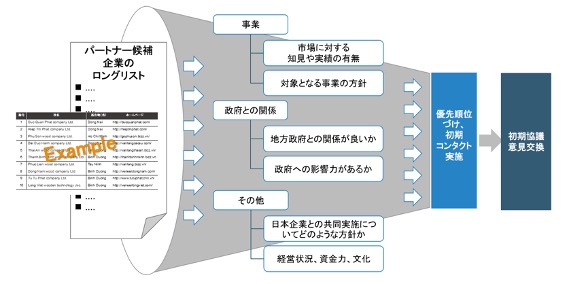 Service model
ONE-VALUE will provide support services according to the customer's position in the step to enter the Vietnamese market. The general expansion steps are as shown in the figure below, but in the business support related to ONE-VALUE's expansion into Vietnam, we will flexibly design the support service according to the customer's standing position in a custom-made manner. If information gathering is not sufficiently advanced, we will conduct a survey to deepen the understanding of the market, and for customers who already have an understanding of the market but have problems in developing a local network, formulate partner selection criteria. From, we will flexibly adjust the support service. As for the estimated price, please contact us once and we will provide you with a detailed quotation.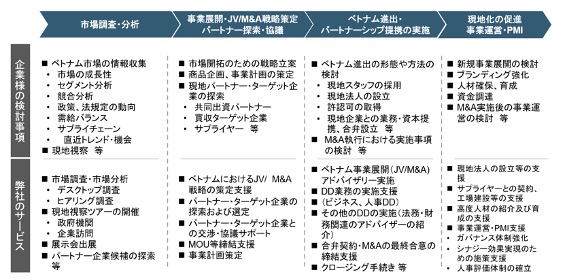 Features / strengths
As a management consulting specialized in Vietnam, ONE-VALUE has a deep understanding of the Vietnamese market and a network to the Vietnamese government and private companies. A Vietnamese investigator who can collect information in Vietnamese is operating locally. It is also possible to approach with ONE-VALUE at government agencies and private companies, which are usually difficult to approach.
Utilizing our knowledge of the Vietnamese market and our local network in Vietnam, we will provide one-stop support for our customers' expansion into Vietnam. One-stop advancement support