2022年02月14日 作成 (2023年04月27日 更新)
2022.02.14 tạo nên (2023.04.27 cập nhật)
2022.02.14 create (2023.04.27 update)
Vietnam's largest forestry company: Introducing VINAFOR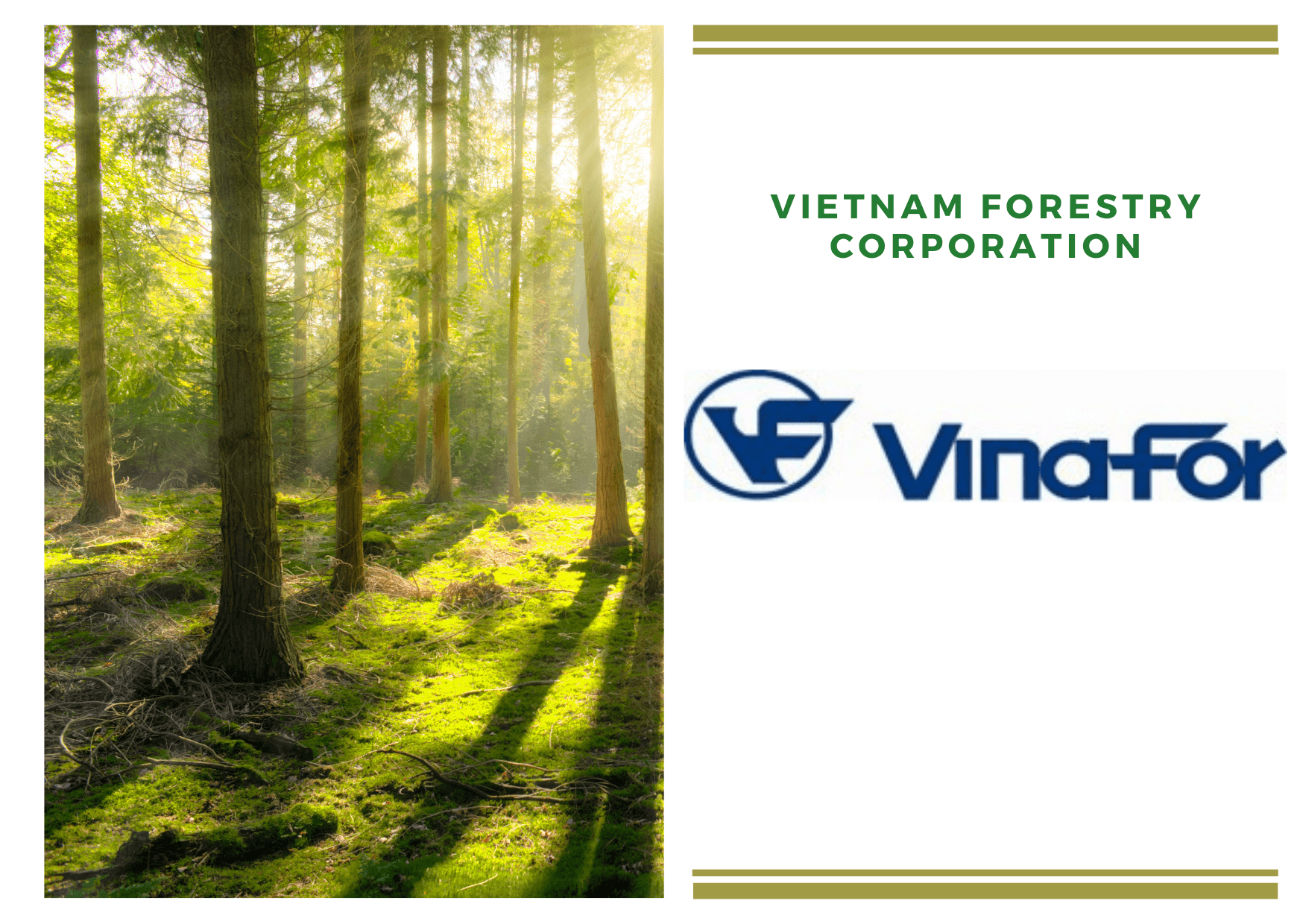 Overview of VINAFOR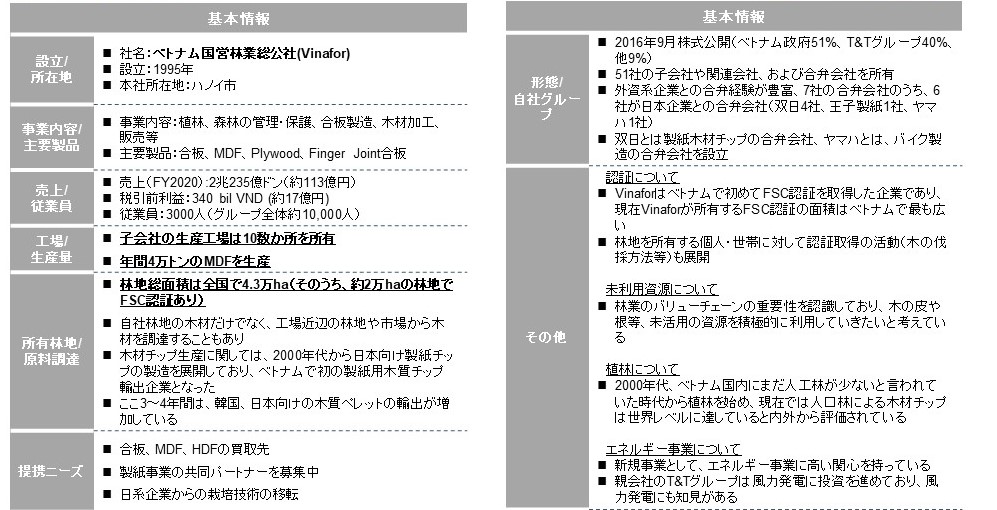 Vietnam Forestry Corporation (VINAFOR) is the largest state-owned enterprise in Vietnam that sells forestry and timber, and is engaged in tree planting, timber production and sales.
Below is an introductory video outlining VINAFOR.
Sales scale
In 2020, sales will be about 11.3 billion yen, profit before tax will be about 1.7 billion yen, and the number of employees will be about 10,000 including group subsidiaries, which is the largest in terms of both sales and number of people.
All woodland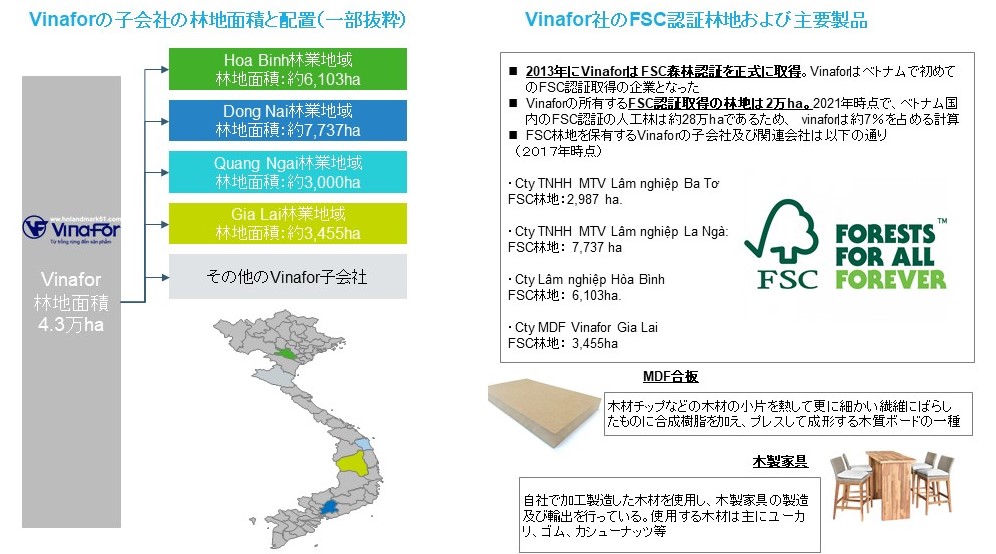 VINAFOR owns 43,000 ha of forest for the entire group, and the forest is distributed all over Vietnam. The main forests are plantations such as acacia, eucalyptus and pine to provide timber and wood products for domestic and foreign markets.
FSC certification
VINAFOR was approved by the Forest Stewardship Council (= FSC) in 2013 for its own forests. At that time, there was no other example of FSC certification in Vietnam, and it became the first company in Vietnam to receive FSC certification. In addition, the forest land of VINAFOR, which received FSC certification at that time, was also the largest in Vietnam (at that time, the area of the forest land that received FSC was 38,000 ha).
Currently, 20,000 ha of forests owned by VINAFOR are FSC certified. All forests owned by VINAFOR are actively applying for FSC certification in 2025 with the goal of receiving FSC certification.
VINAFOR's human resources business
VINAFOR is a group company "VINAFOR Labor Cooperation Service Co., Ltd.", which is engaged in the business of sending out Vietnamese human resources. So far, the company has sent about 1,400 technical intern trainees and 50 engineers (advanced human resources) to Japan. In particular, the fields of human resources where VINAFOR has strengths are construction, shipbuilding, agriculture, forestry, and food and beverage manufacturing.
VINAFOR's philosophy is to send out human resources who will be able to work immediately, and it provides polite Japanese language education and vocational education at its own educational institution. Therefore, the technical intern trainees who came to Japan through the company are very enthusiastic about their work at the host company, and are highly evaluated by the host company.
Relationship between VINAFOR and Japanese companies
Until now, VINAFOR has been doing business in partnership with multiple Japanese companies.
Sojitz and VINAFOR establish a joint venture to manufacture wood chips for papermaking
Sojitz and VINAFOR are operating companies (Vietnam Japan Chip Cai Lan Corporation, Vietnam Japan Chip Vung Ang Corporation, Vietnam) that process and export wood chips for tree planting and papermaking to Da Nang, Ha Ting and Kuang Nam provinces. Japan Chip Da Nang Corporation) was established. It is capitalized at $ 5 million, with Sojitz holding 51% to 60% and VINAFOR holding 40% to 49%.
VINAFOR invests 30% in Yamaha Motor Vietnam's local base "Yamaha Motor Vietnam"
VINAFOR has a 30% stake in Yamaha Motor Vietnam, Yamaha Motor's Vietnam base, which mainly sells motorcycles. VINAFOR contributes to the business development of Yamaha Motor Vietnam by utilizing the company's local network in Vietnam.
Maruwa Forestry Group and VINAFOR conclude exclusive cooperation agreement for accepting technical intern trainees in the forestry field
In March 2021, the Maruwa Forestry Group, which conducts forestry business mainly for wood chip manufacturing on a nationwide scale, is the "Cooperative Maruwa Forestry" and VINAFOR Group, which provides support for accepting and accepting technical trainees. Concluded an exclusive cooperation agreement with the sending organization "VINAFOR Labor Cooperation Service Co., Ltd." to promote the dispatch and acceptance of human resources in the forestry field.
Related article