2022年02月14日 作成 (2023年02月14日 更新)
2022.02.14 tạo nên (2023.02.14 cập nhật)
2022.02.14 create (2023.02.14 update)
ONE-VALUE + JP-MIRAI collaboration project "Vietnamese in Japan fact-finding report meeting-Issues faced by Vietnamese in Japan and efforts for the future-"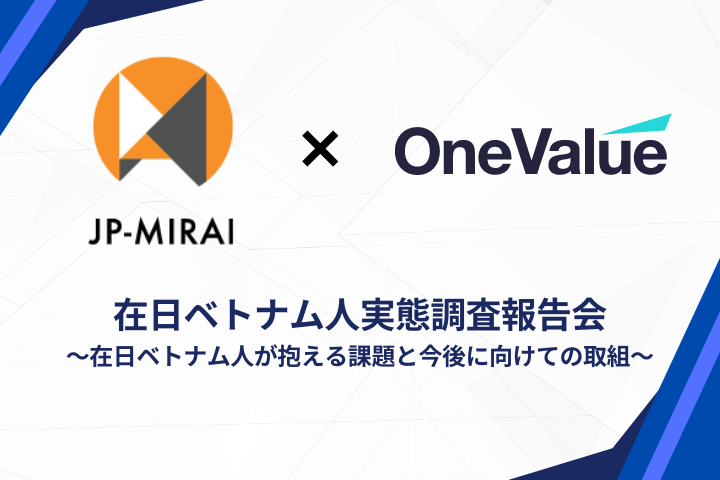 Our representative, Phi Hoa, will hold an online survey report meeting of Vietnamese in Japan from 17:30 to 18:30 on January 21st.
This debriefing session was held by ONE-VALUE Co., Ltd. from May 1st to July 31st, 2021 for 534 Vietnamese residents in Japan. It is a debriefing session of "Fact-finding survey". From the above survey results, the potential challenges facing Vietnamese in Japan have been clarified.
At this debriefing session, we will introduce the details of the survey results and the insights of ONE-VALUE Co., Ltd. on the results, and what kind of things will be done in order to create a society where foreigners living in Japan, including Vietnamese, can live comfortably in the future. I would like to think with you if we can make an effort.
Anyone, including the media, can participate. Please join us.
Outline of the event
[Date] January 21st, 17: 30-18: 30 (online)
[How to hold] Online (Teams), advance application system
[Application] Please apply from the URL below.
https://forms.office.com/r/Ph09SgCWHv
Outline of Vietnamese fact-finding survey
Survey outline
Implementing entity: ONE-VALUE Co., Ltd.
Implementation period: May-July 2021
Main target of the survey: Vietnamese in Japan
Respondents: 534
Survey result summary
The most frequently cited respondents to this survey as "anxiety about life in Japan" was "there are few opportunities to interact with Japanese people."
Behind this is the fact that Vietnamese human resources cannot communicate well with Japanese people due to language barriers and cultural differences, and there is no opportunity to communicate. This creates a situation in which the Vietnamese community is formed in isolation apart from the Japanese community, which may become a hotbed of poverty and crime as a group alienated from society.
Also, Vietnamese who have lived in Japan for a long time have anxiety about children's education. They have difficulty accessing various information related to children's education, and are worried about communication at parent-teacher associations at schools.
Contact information
E-VALUE Co., Ltd. Seminar Management Office
Phone: 080-1980-9493
Email address: seminar@onevalue.jp
Related article