About service
For those who are considering entering the Vietnamese market or expanding their business, ONE-VALUE will regularly provide information and answer questions as an advisor. It is an image close to a lawyer's advisory contract.
support
We will answer all of your specific questions about your business in Vietnam, and depending on the content of your questions, we will send you regular reports and emails with desktop surveys and information that can be obtained within the ONE-VALUE network. We'll let you know.
(Work tasks such as document preparation and visits are basically not included in advisory services)
In addition to this, we also provide useful information for your business development in Vietnam. For example, information on market trends in the same industry with high investment potential and in different industries, and information on the latest trends. *If you are considering full-scale entry into Vietnam (market research, searching for local partners in earnest, or considering individual M&A projects, etc.), please use Vietnam expansion advisory or M&A advisory instead of advisory services. Recommended.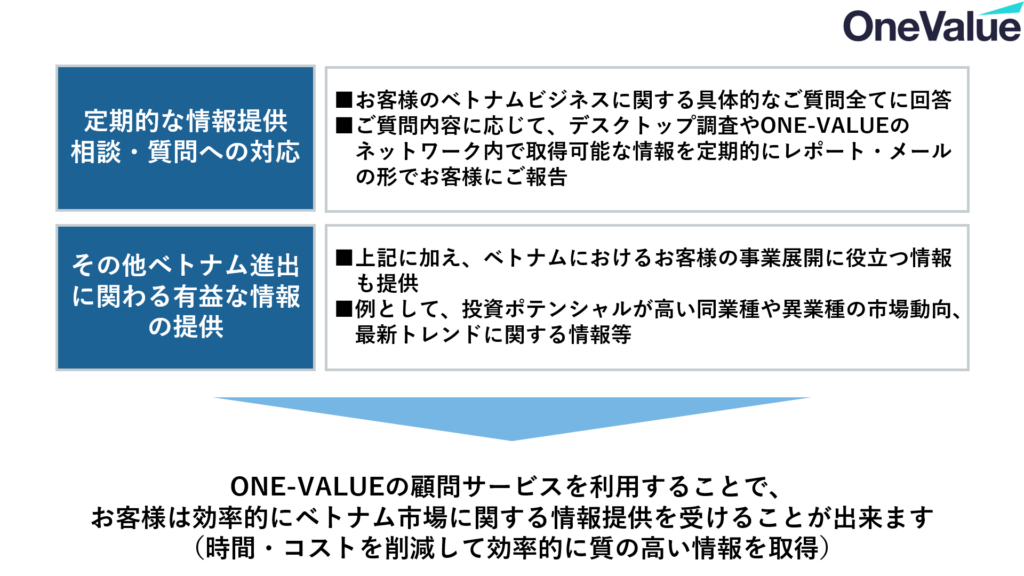 At the initial stage of considering investment in Vietnam, it is recommended to conduct industry research, including industry research and market research. Even for customers who are not yet familiar with the trends of the Vietnamese market, it is possible to see the overall picture of the Vietnamese market by conducting a local survey, and it is possible to efficiently collect the information necessary to formulate a strategy for entering Vietnam. increase.
Service model
ONE-VALUE provides advisory services in the following models. We will provide high-quality information by utilizing the ONE-VALUE network in Vietnam, specifically the extensive network of government agencies, industry groups, experts, and private companies. As for the price, we can provide it from a price range of several hundred thousand yen per month, so please feel free to contact us.
Features/Strengths
A major feature of ONE-VALUE is our deep understanding of the Vietnamese market and our network with the Vietnamese government and private companies.


We have systematized the knowledge we have accumulated as a management consulting company specializing in Vietnam and use it for our advisory services.

Vietnamese investigators who can collect information in Vietnamese are working locally.

In addition, we can provide high-quality information by utilizing networks with Vietnamese government agencies, industry groups, and private companies.

By using ONE-VALUE's advisory service, customers can efficiently receive information on the Vietnamese market.


Currently, the amount of information on the Vietnamese market that can be obtained is limited even on a desktop survey basis, and there is not much data that can be obtained in Japanese. In addition, when collecting information in-house, it takes time and money, and it is not certain that accurate information can be obtained.
Request step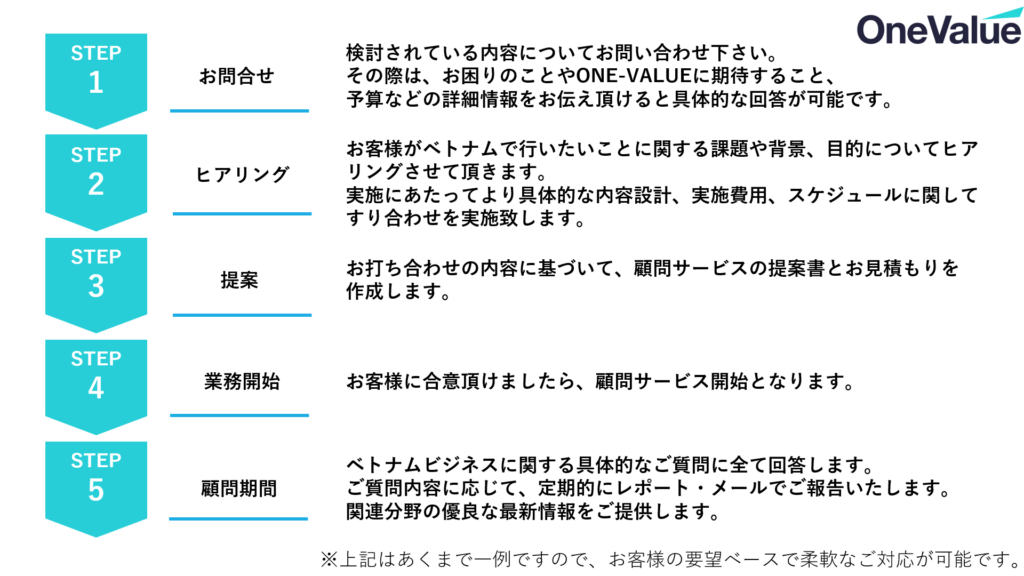 Inquiries

Please inquire about what you are considering.
In that case, we can give you a concrete answer if you can tell us your problems, what you expect from ONE-VALUE, and detailed information such as your budget.

hearing

We will listen to the issues, backgrounds, and objectives of what the customer wants to do in Vietnam.
We will coordinate more specific content design, implementation costs, and schedule for implementation.

suggestion

Based on the content of the meeting, we will create a proposal and estimate for advisory services.

business start

Once the customer agrees, the advisory service will begin.

Advisory period

We will answer all your specific questions about doing business in Vietnam.
Depending on the content of your inquiry, we will periodically send you reports and emails. We provide the latest excellent information in related fields.