About service
We will consistently support BPO (data input, call center, image processing, etc.) in Vietnam from planning to post-implementation operation. We will respond with ONE-VALUE knowledge, including coordination of implementation details, information security, and troubleshooting, which are particularly likely to become bottlenecks when trying to conduct BPO in Vietnam.
List of support contents
Specification design
Communication with local people in Vietnam
Operation/Quality Control
Trouble shooting
Holding regular debriefing sessions
Strength
Strengths of Vietnam BPO
Relatively low labor costs
Abundant working population
Foreign language proficiency
Our strength
Forming a Vietnamese community centered on representatives
Has a base in Vietnam
Placement of Japanese-speaking supervisors in Vietnam
Knowledge cultivated through Vietnamese professional human resources service
※Please feel free to contact us for more details.
Service flow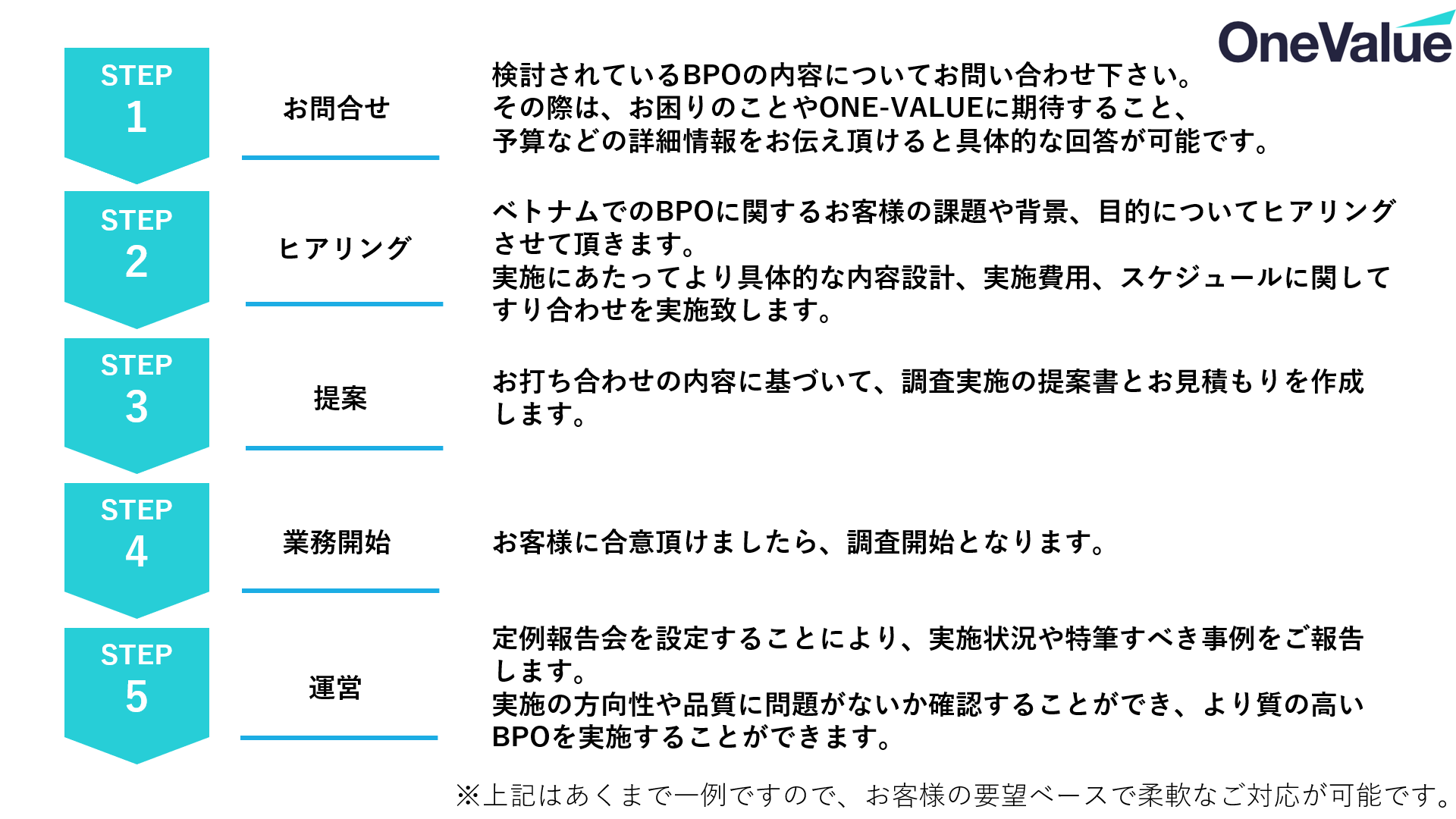 Inquiry

・Please inquire about the content of the BPO you are considering. In that case, we can give you a concrete answer if you can tell us your problems, what you expect from ONE-VALUE, and detailed information such as your budget.

Hearing

・We will hear about the customer's issues, background, and purpose regarding BPO in Vietnam.
・We will coordinate the design, implementation cost, and schedule of more specific contents for the implementation of BPO with a consultant for expansion into Vietnam.

Suggestion

・Based on the contents of the meeting, we will create a proposal and an estimate for conducting the survey.

Business start

・Once the customer agrees, the investigation will begin.

Operation

・During the period of implementation, we will report on the implementation status and notable cases by setting up regular debriefing sessions.
・By holding regular debriefing sessions, it is possible to check whether there are any problems with the direction of implementation and quality, and implement higher quality BPO.
※The above is just an example, so we can respond flexibly based on the customer's request.