Service contents
ONE-VALUE conducts highly accurate Vietnamese company research (credit research and competitive research).
Accurate information on the target Vietnamese company is necessary when starting a new business with a Vietnamese company or when comparing other companies in the same industry. ONE-VALUE conducts highly accurate Vietnamese company surveys by utilizing the experience and know-how of conducting surveys in Vietnam, the database and network that we have accumulated so far, prepares reports, and delivers them to our customers. .
Specifically, it is possible to create a report that includes the following items. *The following are examples only. We will flexibly respond to your request for survey items.
Representative: Management experience, main career so far
History: A chronological history of the company
Performance: Profitability confirmed from the performance of the last 5 years (sales, profit after tax, etc.)
Funding status: Securing necessary funds, non-performing loans
Financial Statements and Analysis: Evaluating the Soundness of Corporate Management
Real estate registration copy: collateral setting status
Shareholders: Major Shareholder Information
Business partners: terms of payment and collection, relationships with business partners
Banks: relationship with the main bank, fundraising ability, etc.
Current Situation and Outlook: Current Situation and Future Vision of the Company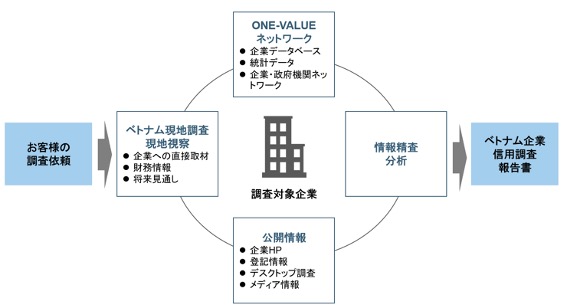 Service model/rate
Vietnam company research service is provided in the following steps. After receiving an inquiry from a customer, in order to provide an accurate and high-quality report, we will conduct an interview with ONE-VALUE about details such as the purpose of the customer's survey.
The fee varies depending on the number of companies to be surveyed, so please contact us first and we will provide you with a detailed estimate.
Features/Strengths
As a management consulting company specializing in Vietnam, ONE-VALUE's major features are its deep understanding of the Vietnamese market and its network with the Vietnamese government and private companies. Vietnamese investigators who can collect information in Vietnamese are working locally. In addition, it is also possible to approach government agencies and private companies that are usually difficult to approach with ONE-VALUE.
It is possible to obtain detailed information and conduct surveys using the ONE-VALUE network, not only for listed companies with relatively large amounts of public information, but also for local companies with little public information.