Overview of Vietnam Market Research Service
We will investigate and research the Vietnamese market and industry on behalf of our customers (Japanese companies).
For Japanese companies considering entry into the foreign Vietnamese market, business expansion, or M&A, it is necessary to conduct market research in advance.
Currently, there is little information about overseas markets that can be collected on the Internet. Although it is a big problem for Japanese companies, since there is not much information about the Vietnamese market, it is one of the effective means to ask an expert.
In ONE-VALUE's Vietnamese market research, we design research items in a custom-made style according to customer's request. Specifically, there are many cases where the following survey items are investigated.
Market size
Market segment
Vietnamese legal provisions
major players in the industry
Price range in Vietnamese market
Vietnamese consumer needs
Local suppliers that meet the requirements of Japanese companies
Vietnamese government policy, foreign investment restrictions
market trends
Future prediction
ONE-VALUE Co., Ltd. can investigate all items related to Vietnamese market research.
Through market research, we support the formulation of strategies for new entry into the Vietnamese market and business expansion. It is also possible to objectively evaluate the possibility of new entry and business expansion of Japanese companies.
What can be learned through Vietnam market research
Through the Vietnamese market research, you can understand the following things. Here are two examples.
Vietnamese market trend
We can grasp quantitatively (sales amount, sales volume, etc.) and qualitatively (market trends) the market size of products and services that customers are considering developing in the Vietnamese market and how much the market is growing. increase. In addition, it is possible to qualitatively understand the background factors (market environment, trends in products and services, trends in market players, etc.) related to changes in market size.
This information can be used to determine the potential of the Vietnamese market, to consider new entry, business expansion, and future expansion plans.
Vietnam market entry barriers and competitors
We will clarify what kind of market entry barriers exist in making entry barriers in the Vietnamese market. For example, there are restrictions on foreign investment in the Vietnamese market, which can be a barrier to entry for Japanese companies.
In addition, it is possible to grasp what kind of market players have entered the Vietnamese market and how much share they have. It is also possible to understand the background factors (products, financial information, positioning, corporate strategy, superiority, etc.) regarding the market share of market players, which can be useful for strategies to enter the Vietnamese market.
Needs and preferences of Vietnamese people
The needs and preferences of foreign Vietnamese citizens need to be systematically understood through actual surveys.
A needs survey is a survey to grasp the needs (requests and demands) that Vietnamese people have for certain products and services. This is especially important when it comes to marketing.
The main methods are questionnaire surveys, interview surveys, and SNS surveys. Sometimes it's face-to-face, sometimes it's online.
Strengths of ONE-VALUE
ONE-VALUE's main strengths in conducting Vietnamese market research and feasibility studies are as follows.
We specialize in the Vietnamese market and have deep knowledge. 80% of ONE-VALUE customers are Japanese listed companies.
We have a subsidiary in Vietnam and have many investigators working there.
We have many connections with executives of major companies and senior government officials in Vietnam.
A Vietnamese community is formed on SNS, and in-depth interviews with general consumers and awareness surveys targeting a large number of people are also possible.
Since it is a custom-made type, you can flexibly set the optimal survey items for each case.
In order to expand exports in the Vietnamese market, we support sales channel development and sales activities for local buyers (import companies, retail companies, restaurants) in Vietnam.
Survey method of Vietnam market research
ONE-VALUE market research is conducted mainly through desktop research, interview research, and marketing research.
desktop survey
In Vietnamese and English, we will conduct desktop research centered on government statistics, industry group statistics, information published by private companies, and local news articles, mainly by Vietnamese analysts (researchers) and Japanese analysts.
In Vietnam, statistics are not maintained and there are few reliable information resources, but we use only reliable information resources.
We will also utilize a large database on the Vietnamese market and Vietnamese companies obtained by conducting numerous Vietnamese market researches.
Interview survey
We will conduct interview surveys with high-ranking officials of the central and local governments of Vietnam, management and management of Vietnamese companies, and experts and experts in industry groups. In addition, we will collect information by utilizing the pipe network already owned by ONE-VALUE.
Marketing Survey/Marketing Research
We mainly investigate the needs of consumers in Vietnam. Marketing research effectively utilizes the following methods depending on the purpose.
Quantitative research
Quantitative research is a survey that aggregates and analyzes data that is generally expressed numerically. Specifically, through quantitative questionnaire surveys, we obtain data by directly asking consumers and customers for their opinions. online
For example, when conducting marketing research on health food for 200 Vietnamese citizens, what functions do Vietnamese people want in health food, how often do they usually use health food, and how long is the usage history? , How much is spent annually, etc., and analyzes trends in Vietnamese people's preferences and needs for health food.
interview survey
Interview research mainly obtains qualitative information. Qualitative information is a survey to obtain data such as statements and actions of Vietnamese individuals that are difficult to express numerically. The items to be interviewed will be set in advance based on the customer's intentions, and the interview will be conducted after obtaining the final consent. There are two main methods of interview research. If it is difficult to do face-to-face, we will do it online or over the phone.
depth interview
A one-on-one format between a Vietnamese consumer and an interviewer.
In depth interviews, you can deeply investigate the psychological state and lifestyle of the Vietnamese people, and you can hear the psychology, thoughts, and values ​​that the person is not aware of. You can better understand the essence of Vietnamese consumer needs. These are the big advantages of depth interviews. On the other hand, depth interviews also have the disadvantages of being time consuming (costly) and difficult to reach consensus.
Group interview (group discussion)
A format in which a moderator (moderator) conducts a round-table discussion with multiple Vietnamese consumers.
Group interviews have the advantage of being cost-effective, and group dynamics can be expected. Group dynamics is the principle that Vietnamese consumers are influenced by and influence the group by responding to interviews as a group. Vietnamese consumers can inspire each other, uncover ideas that were not anticipated in advance, and get a variety of opinions. However, as a disadvantage of group interviews, it is not suitable for deepening individual Vietnamese consumers, and sometimes checks and balances may occur. Speaking in front of a lot of people is a disadvantage, and it is a situation where only bland opinions are expressed.
Vietnamese market research flow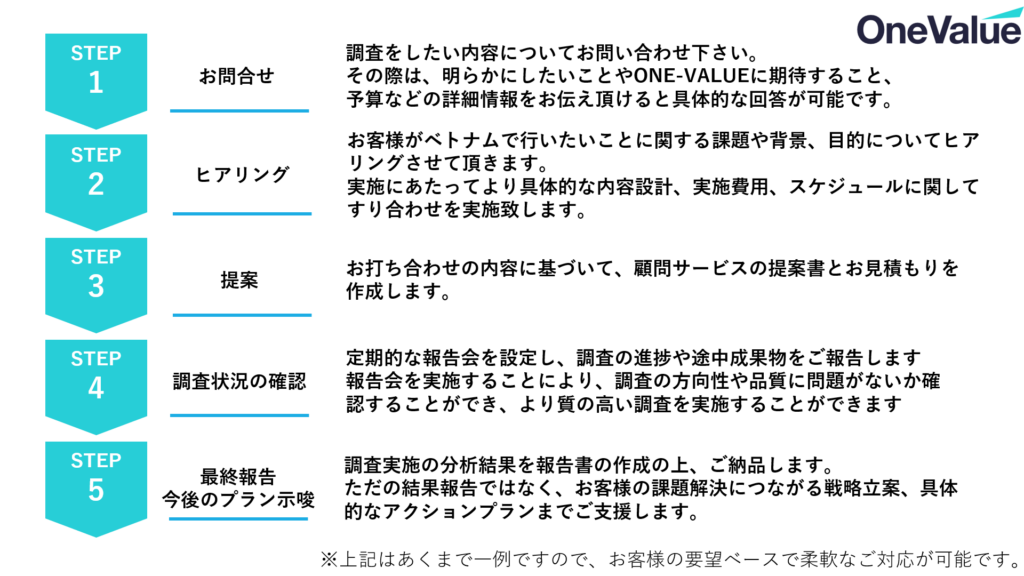 inquiry

Investigation Please inquire about the items you would like to investigate. In that case, if you tell us what you want to clarify in the survey, budget, schedule and period, we can give you a concrete answer.

Meeting/survey design

We will listen to the customer's issues, background, and purpose regarding business development in Vietnam.
We will coordinate the design, implementation cost, and schedule of the survey with the Vietnam expansion consultant.

Preparation of research proposals and estimates

Based on the content of the meeting and the content of the inquiry, we will create a proposal and an estimate for conducting the survey. Once the customer agrees, the investigation will begin.

Confirmation of investigation status

During the survey, we will report on the progress of the survey and intermediate results by setting up regular reporting meetings and interim reporting meetings.
By holding regular debriefing sessions, it is possible to confirm whether there are any problems with the direction and quality of the investigation, and to conduct higher quality investigations.

Final report and suggestions for future action plans

At the final debriefing session, we will prepare a report on the analysis results of the survey implementation and deliver it. You can ask questions freely at the debriefing session.
We support strategy planning and concrete action plans that lead to customer problem solving, not just survey results, not just information gathering.
Vietnam Market Research Use Case
It is possible to use it in such situations.
Considering new entry and business expansion into the Vietnamese market
・We are considering entering the Vietnamese market and expanding our business, but we do not know the size of the target market and its future prospects.
・I do not know the foreign investment regulations and regulations in Vietnam.
・The needs and tastes of Vietnamese consumers have not been grasped.
・We are considering starting a new business in the Vietnamese market, but we do not know the manufacturers and customers who will enter the target market.
・You are considering developing a new product/service, but you don't know what to create.
Investment in existing business Osaka University
・We do not know how much the Vietnamese market will grow in the future.
・We are considering the possibility of the spread of competing new products and services.
・・If the Vietnamese government enacts a new law, will it affect our business?
How to request Vietnam market research
Please refer to the ONE-VALUE media site for information on how to request a Vietnamese market research.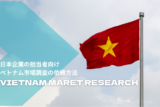 ベトナム市場調査の依頼方法【日本企業向け】調査方法・費用・分析ポイント解説 - VietBiz(ベトビズ)
目次 ベトナム市場調査を成功させるための確認ポイントベトナム市場調査の必要性と目的ベトナム市場調査の必要性①:ベトナム市場は環境変化が激しいベトナム市場調査の必要性②:ベトナム消費者の嗜好は日本と異なるベトナム市場調査の
Cost/rate system
Regarding the fee structure for Vietnam market research, we will provide a quotation each time depending on the volume and difficulty of the research, so please contact us first.
Implementation period
The Vietnam market research period varies from several weeks to several months depending on the scale of the project. The implementation schedule corresponds to the customer's request.
why vietnam
With rapid economic development, the Vietnamese market has been attracting attention in recent years not only as a production base for the manufacturing industry, which benefits from low labor costs, but also as a promising consumer market. An increasing number of Japanese companies see the Vietnamese market as a promising market supported by a large population of 100 million people and a rapidly growing middle class. Many large companies from all over the world have entered the Vietnamese market.
In urban areas (Ho Chi Minh City, Hanoi City, Da Nang City), there are many middle class and wealthy people, and recently, EC sales and online sales have become popular. Ho Chi Minh City in the south is the largest economic city in particular.
On the other hand, there are many Japanese companies who consider the markets of Southeast Asia and China as promising destinations for overseas expansion besides Vietnam.
Although there are promising markets for Japanese companies around Vietnam, such as China, South Korea, India, and the Southeast Asian region (Thailand, Indonesia, Laos, Cambodia, and the Philippines), Vietnam is considered to be the country with the highest future growth potential.
In 2020, the new coronavirus spread worldwide, but Vietnam was the only country in Southeast Asia to achieve positive GDP growth. According to the Asian Development Bank's forecast, Vietnam is expected to maintain the highest economic growth rate in Southeast Asia until 2025, which is the post-corona era. Although Vietnam has variable factors such as the situation of controlling the new coronavirus and the Ukraine crisis, further development can be expected, such as growth in the manufacturing industry, the resumption of international tourism, and an increase in demand for consumption.According to the official announcement of the Vietnamese government, GDP growth is expected to reach 6.0-6.5%.