Consulting services for expanding into Vietnam
We provide a one-stop advisory service related to supporting customers' expansion into Vietnam. As a one-stop advisor, we will stay close to our customers over the long term and provide consistent services from the initial stage of business to establishment, implementation, and operation after expansion. Mainly market research, search for alliance partners, support for business negotiations with partners, business development strategy planning (JV/M&A strategy formulation), new business development, and support for all matters related to entering Vietnam and entering the market. Is possible. It is also possible to provide partial support according to the customer's needs.
By using ONE-VALUE's consulting service, you can reduce the time to consider business development, improve the probability of project success, and build a network with local companies and government agencies.
See xx for support services related to "market research" and "strategy planning".
In "business support related to entering Vietnam", we can provide one-stop support for entering Vietnam, including "market research" and "strategy planning".
※Criteria for searching local partners in Vietnam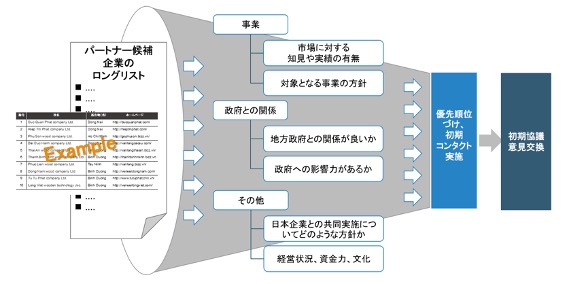 Vietnam expansion consulting service model
ONE-VALUE provides support services according to the customer's position in the step of entering the Vietnamese market. The general expansion steps are as shown in the figure below, but in the business support related to ONE-VALUE's expansion into Vietnam, we will flexibly design the support service according to the customer's standing position in a custom-made style. If information gathering is insufficient, we will conduct surveys to deepen our understanding of the market. For customers who already have an understanding of the market but are having trouble developing a local network, we will formulate partner selection criteria. We will flexibly adjust our support services. As for the estimated price, please contact us first, and we will provide you with a detailed estimate.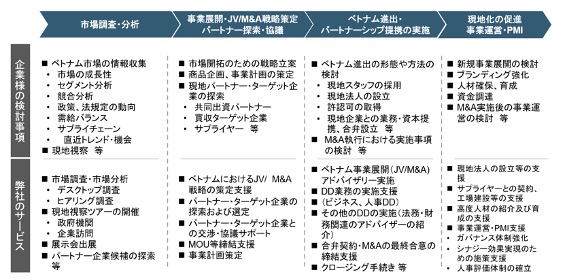 Features/Strengths
As a management consulting company specializing in Vietnam, ONE-VALUE's major features are its deep understanding of the Vietnamese market and its network with the Vietnamese government and private companies. Vietnamese investigators who can collect information in Vietnamese are working locally. In addition, it is also possible to approach government agencies and private companies that are usually difficult to approach with ONE-VALUE.
Utilizing our knowledge of the Vietnamese market and our local network in Vietnam, we provide one-stop support for customers entering Vietnam.
Examples of Vietnam expansion consulting services
Strategic planning for product design and sales development of electrical equipment for the Vietnamese market
・Strategy planning for product design and sales for selling electrical equipment for power plants in Vietnam. ONE-VALUE conducted interview surveys and approach formulation for major EPC companies and renewable energy investors who are customers on the Vietnamese side.
Support for acquisition of biomass power generation project in southern Vietnam
・We conducted market research with the aim of securing a long-term stable supply of biomass fuel in the Vietnamese market, and formulated a strategic plan based on the results of the research. In addition to searching for biomass power generation projects and supporting discussions and negotiations with sellers, we provided end-to-end support from land acquisition procedures, obtaining permits and licenses, and searching for promising fuel suppliers.
Sales forecast for large-scale commercial facilities in central Vietnam
・In addition to the Hough model, which is used as an analytical method for predicting store demand, we developed our own model to support sales forecasts for commercial facilities.
Click here for other Vietnam expansion consulting results.
Advantages of expanding into Vietnam
Until now, Vietnam has been evaluated as a manufacturing base, but now it is attracting attention not only as a manufacturing base but also as a consumer market. There are three main reasons why Vietnam is a promising consumer market.
➀The population is steadily increasing and is expected to reach 100 million in the 2020s  
  ↳Consumption will definitely increase. As the market expands, new needs emerge.
➁Remarkable economic development, income more than tripled in 10 years
  ↳The number of the wealthy and middle classes is increasing. It will be easier to sell more expensive items than before.
③Spread of modern consumption styles such as convenience stores, e-commerce, and electronic payments
  ↳It is possible to formulate a flexible sales strategy. New entrants will be easier than ever before.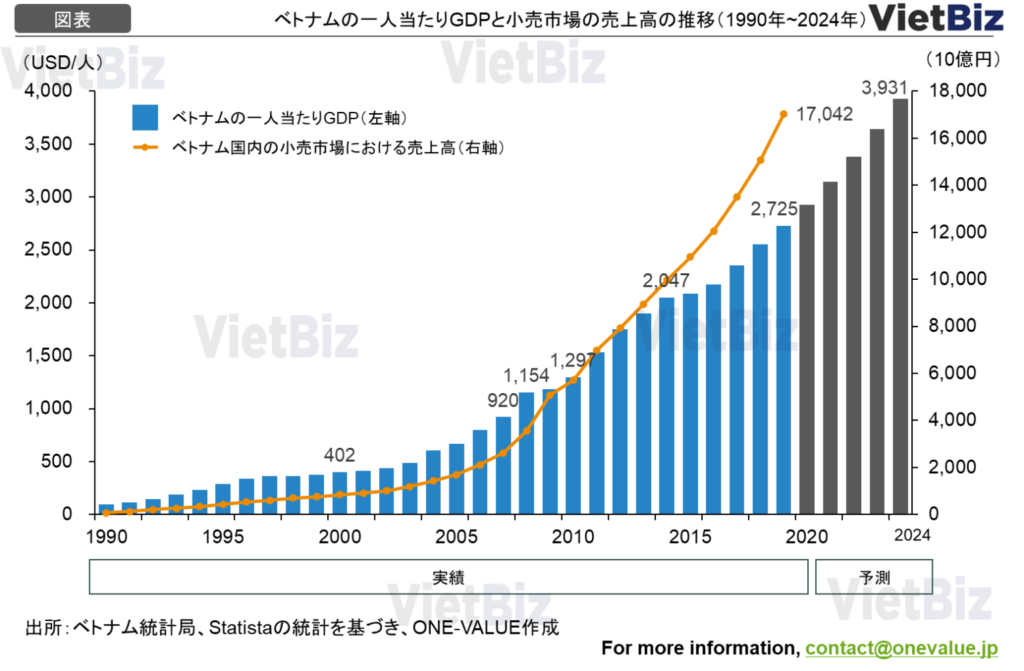 On the other hand, manufacturing remains Vietnam's core industry and contributes significantly to Vietnam's trade and economy. Manufacturing also remains promising.
Flow of consulting service for entering Vietnam
Here, we will explain the flow of ONE-VALUE's Vietnam expansion consulting service.
The following is just an example, so it can be handled flexibly in practice.
Inquiries

Please contact us about your thoughts on business development in Vietnam.
In that case, if you tell us the goals, budget, and period you want to clarify, we can give you a more specific answer.

hearing

We will listen to the customer's issues, background, and purpose regarding business development in Vietnam.

suggestion

Based on the content of the meeting and the content of the inquiry, we will create a proposal for conducting the survey and an estimate.

business start

Once the customer agrees, the investigation will begin.

Interim progress report

By holding regular debriefing sessions, it is possible to confirm whether there are any problems with the direction and quality of the investigation, and to conduct more thorough investigations.

final presentation

At the final debriefing session, we will prepare a report on the analysis results of the survey implementation and deliver it.
You can ask questions freely at the debriefing session.
Consulting service fee for entering Vietnam
In principle, we will provide an estimate for each project.
Before service provision
・Please feel free to contact us for a free consultation and estimate.
in progress
・If the customer approves of the survey items and work content proposed by our company, the contract will be concluded.
vinegar. We will let you know if there is a deposit at the time of the estimate.
After implementation
・We also provide additional surveys and ongoing support after the final report.